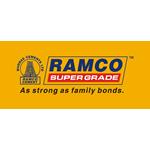 | | |
| --- | --- |
| Company Name: | Ramco Cements Ltd |
| OldName: | Formerly Madras Cements Ltd |
| Group : | Ramco Group |
| Address: | Corp Office |
| | Auras Corporate Centre |
| | 98-A, Dr. Radhkakrishnan Salai, Mylapore |
| City: | Chennai 600004 Tamil Nadu |
| Tel: | 044 – 28478595 / 28478656 /28478666 |
| Fax: | 28478676 |
| Mktg-Email : | [email protected] |
| HR-Email : | [email protected] |
| Purchase-Email : | [email protected] |
| Brands Owned : | Ramco |
---
About the Company :
---
Ramco Cements Ltd (Formerly Madras Cements Ltd) is the flagship company of Ramco Group and it has five cement plants located in AP and TN. It is a six decade old company and the current total cement production capacity is 10 million tpa and is the sixth largest producer of cement in the country. It also produces dry mortal products and ready mix concrete.
In August 2017, the company is planning to invest Rs. 10000 million towards expansion of its satellite grinding unit capacity in Odisha, Andhra Pradesh, West Bengal which will raise its capacity from 4.0 million tpa to 7.1 million tpa. The expansion will be undertaken at Visakhapatnam, Kolaghat and with a new grinding unit in Odisha. The projects will be commissioned in 18 months
---
Latest News :
The company is also planning to set up a grinding unit with a capacity 950000 tpa near Nellore in Andhra Pradesh.
---
Personnel
A Ramakrishna
– Director
A.V. Dharmakrishnan
– CEO
Dr. R S Agarwal
– Director
Mbn Rao
– Director
P R Venketarama Raja
– Director
S Shanmugham
– Vice President ( Mfg )
S Ramaraj
– Sr. Gen. Manager ( Admn )
Mandeo Yadav
– Vice President ( Mfg )
Ravichandran
– General Manager
Madan Mohan
– Vice President – ( Admn )
S D Mukherjee
– Sr. Gen. Manager ( P & P )
N Ravishankar
– Vice President ( Mfg )
Ramachandra Y Dambal
– Dy. General Manager – ( Works )
Ajit Kumar Paul
– General Manager – Projects
M Srinivasan
– Sr. Vice President
Ganesh Ram Krishnasamy
– Dy. General Manager – E&I
Ram Surendar
– aSst. Manager – Process
C G Sudarsan
– General Manager – Materials
Rajkumar Kandasamy
– Asst. Manager – Process
Venkatapathi Gupta
– Dy. Manager- Mechanical (Jaggayapeta)
Suraj Shetty
– Sr. Manager -Technical (Mangalore)
Parthasarathi Pakhira
– Engineer – Processs (Kolaghat)
P B Gopalakrishna
– President – Manufacturing (Jayantipuram)
Venketrama Raja
– Chairman & Mg.Dir
P K Sinha Roy
– Manager QC
Sabyaschi Kabiraj
– Manager QC
---
Plant Jayanthipuram Kumarasamyraja Nagar Jayanthipuram 521457 Jaggayapeta Krishna Andhra Pradesh Tel : 08654-224400 – 09 Fax : 222532 Email : [email protected]
Plant Alathiyur Cement Nagar Alathiyur 621730 Sendurai Ariyalur Tamil Nadu Tel : 04329-248305/06 Fax : 248313 Email : [email protected]
Plant Mathodu, Hosadurga Taluk Mathodu 577533 Hosadurga Chitradurga Karnataka Tel : 08199-240111/039 Fax : 240314 Email : [email protected]
Plant Ariyalur Govindapuram Village Ariyalur 621729 Thiruthooraipoondi Tiruvarur Tamil Nadu Tel : 04329-226001-004 Fax : 226005/294400 Email : [email protected]
Plant Ready Mix Concrete Divison 54, Sidco Industrial Estate, Vichoor, Manali Chennai 600103 Tamil Nadu
Plant Chengalpet Grinding Unit Kattuputhur Village, P.O. Olaiyur, Salavakkam Olaiyur 603107 Uthiramerur Kanchipuram Tamil Nadu Tel : 044-27297295 Email: [email protected]
Plant Kolaghat Grinding Unit Rakshchak Village, Anchal Amalhanda, P.O. Kolaghat Kolaghat 721134 Purab Medinipur West Bengal Tel : 03228-250207 /08 Fax: 03228-250207 Email: [email protected]
Plant Ramaswamy Raja Nagar Via Virudhunagar Ramasamy Raja Nagar 626204 Virudhunagar Tamil Nadu Tel : 04562-256201/02 Fax : 256268 Email : [email protected]
Plant Salem Cement Works (Grinding Unit) Singhipuram Village, Valapady Taluk Singipuram 636115 Vazhapadi Salem Tamil Nadu Tel : 07299973001/2 Email: [email protected]
Plant Vizag Cement Grinding Unit Anakapalle Anakapalle Dumbriguda Visakhapatnam Andhra Pradesh Tel: 099593 66166
Plant Kalvatala Koilimigundla, Kurnool District Kalvatala Kolimigundla Kurnool Andhra Pradesh
Corp Office Auras Corporate Centre 98-A, Dr. Radhkakrishnan Salai, Mylapore Chennai 600004 Tamil Nadu 044 – 28478595 / 28478656 /28478666 28478676
---
---