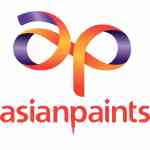 | | |
| --- | --- |
| Company Name: | Asian Paints Ltd |
| OldName: | |
| Group : | |
| Address: | Corp Office |
| | Asian Paints House |
| | 6A, Shantinagar, Santacruz (E), |
| City: | Mumbai 400055 Mumbai Maharashtra |
| Tel: | 022 – 3981 8000 /022 – 6218 1000 |
| Fax: | 022 – 3981 8888 |
| Mktg-Email : | [email protected] |
| HR-Email : | [email protected] |
| Purchase-Email : | [email protected] |
| Brands Owned : | |
---
About the Company :
Since its foundation in 1942, Asian Paints has come a long way to become India's largest and Asia's third largest paint company, with a turnover of Rs. 141.83 billion. Asian Paints operates in 19 countries and has 26 paint manufacturing facilities in the world servicing consumers in over 65 countries.
Asian Paints has always been a leader in the paint industry, pushing new concepts in India like Colour Worlds, Home Solutions, Colour Next,and Kids' World.
Asian Paints is planning to increase its capacity of Rohtak plant from 0.2 million tpa to 0.4 million tpa. The current paint capacity of AsianPaints is set to reach 1.0 million tpa.
In June 2016, the company is also planning to raise upcoming Vizag plant capacity from 400,000 kilo liters to 500,000 kilo liters
In February 2017, the company has bought Causeway Paints Lanka of Srilanka through its subsidiary Berger International (BIPL).
In February 2018, LIC India has hiked its holding in the company by 2% and now it holds around 7.01% of the company.
In January 2019, the company had completed its expansion programme at Vizag which increased the production capacity to 0.5 million kilo liters
---
Personnel
Jalaj Dani
– President
---
Plant Plot No 50-55, Industrial Development Area, Phase II, Patancheru Patancheru 502329 Medak Andhra Pradesh
Plant A-1, UPSIDC Industrial Area, Kasna – II, Kasna Village, Greater Noida Kasna 201306 Gautam Buddha Nagar Uttar Pradesh
Plant Plot No. 2602/2702, GIDC Industrial Area Ankleshwar 393002 mahakal-interchem Bharuch Gujarat
Plant Penta Plant: B-5 and 10, Sipcot Industrial Complex Sipcot Cuddalore 607005 Cuddalore Tamil Nadu Tel: 099433 50643/04142-239247/239248 Fax: 04142-239234
Plant SIPCOT Industrial Park, Plot No. E6 – F13, Sriperumbudur Sriperumbudur 602105 Kanchipuram Tamil Nadu
Plant Taloja Plant (Industrial Paints): Plot No. 3/2, MIDC, Taloja Taloja 410208 Raigad Maharashtra
Plant Plot No 1, IMT, Sector 30 B, PO Kherisadh Village Rohtak 124027 Gurgaon Haryana
Plant Plot A1, MIDC, Khandala Industrial Area, Taluka Khandala Khandala 412802 Satara Maharashtra
Plant Pudi Village Rambilli Mandal , Vishakhapatnam Pudi Rambili Visakhapatnam Andhra Pradesh
Corp Office Asian Paints House 6A, Shantinagar, Santacruz (E), Mumbai 400055 Mumbai Maharashtra 022 – 3981 8000 /022 – 6218 1000 022 – 3981 8888
---
Products & Services Offered
Paints-Varnishes
---